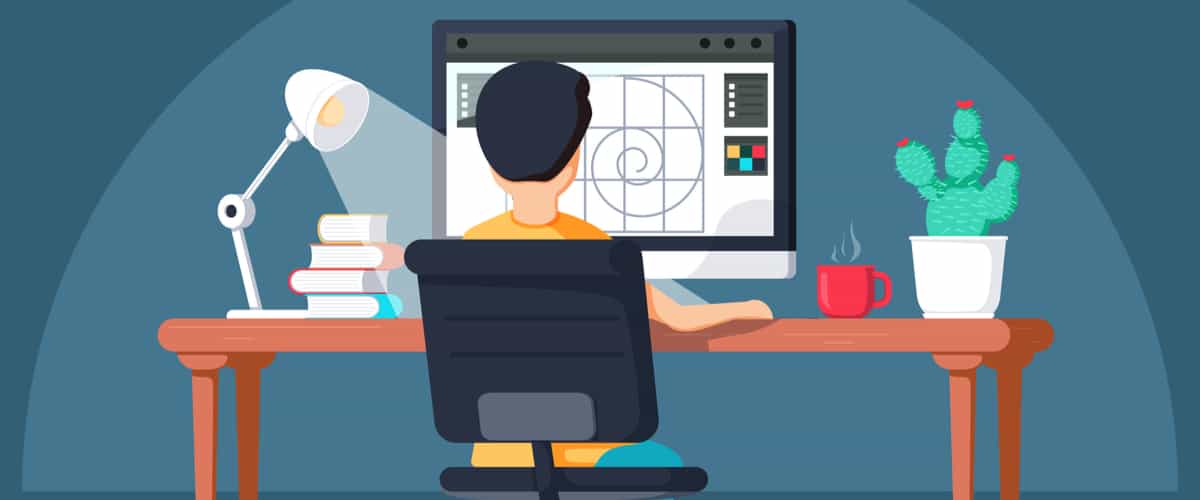 Do I Become a Graphic Designer
Graphic designing is one of the creative career opportunities for designing people. If you find yourself in fantasizing you can choose an artistic designing firm. Why because great designs come with creative thoughts not just with a professional degree or academic majors. Of course, it's crucial, having related academic majors to settle as a designer. But the one who has excellent skills without a degree can also consider the graphic designing career. To settle as a Graphic designer, it's important to identify from where you start! Here is your guide. Learn how to become a graphic designer in traditional & non-traditional paths.
What is Graphic Design?
Graphis design is the profession that brings ideas into visualization. This is a kind of creative work that combines words, pictures & graphics for an art which would use for different mediums.
A graphic designer is someone who creates visual designs by combining the all possible art pieces. For this, they need practice functional planning, moreover imagination. They deliver these concepts for making banners, develop screens, gaming visuals, advertising materials, more.
How to Become a Graphic Designer
The graphic designer's main work responsibility is the transmission of innovative thoughts into visualization. For a graphic designing job, academic background in designing is necessary? Or not? I have good knowledge visuals, do I start my career without a degree? With my creative thoughts, can I rule this designing world, but I don't know where to start!
Are these your questions? Then find all the best possible answers for your designing career. Know what you need to hit the visual world by reading this article how to become a graphic designer. Here are the five steps for a successful career launch in graphic designing.
Steps to Becoming a Graphic Designer
Typically, to start the graphic designing career a graduation degree in graphic designing is not required. The key thing you needed a professional skill. Here are the steps
Developing Skills
Professional Training
Creating Portfolio
Doing Internships
Get Hired as Entry level Graphic Designer
If you want to find yourself as a successful graphic designer in this artistic world, then know the detailed information by continuing this read.
1. Developing Skills
Developing skills means knowing better knowledge regarding designing. Right from high-school to college you can improve the necessary skillset.
The first & best skill to have is creative thinking. Apart from creative thinking drawing skills, computer knowledge, visualization, storyboard skills, etc.
Earn a bachelors degree in any firm it's important to have institutional knowledge. It would be preferable if you have a degree in Graphic designing or any related field. Try to consider even others also do getting jobs in graphic design, with high-pay. No need to worry about it concentrate on developing skillset.
2. Professional Training
Training is the only option to step-in into this graphic world. Start learning right from your school days. Like taking practice on drawing, photography, computer visuals, web designing, etc.
Must follow the step to get graphic design job is professional training in graphic designing. Become a master in Photoshop software like Adobe. Apart from this, it would be better if you learn HTML, CSS, javascript.
Get the bachelor's degree admission in designing from any of your local colleges. There you gain knowledge on various points like layout preparation, visuals, etc.
3. Creating a Portfolio
Creating a portfolio is such a pivotal step to enter into the real job world. It's not all related to how you learn. However, it's important to expose what you learn in designing.
Creative compelling of a portfolio is an add-on advantage. So, try to prepare the best, even though you're in learning stages it's important to show your creativity & conception of your future designs.
Always come up with the finest ideology to prepare a portfolio. For a compelling portfolio collect some newspaper designs, magazine views, online banners, marketing adds, promotional designs, etc. don't leave a single column for a creative presentation.
4. Doing Graphic Designing Internships
While learning the designing concepts, you're able to bring the visual part for your imagination. Taking a professional work learning will introduce you into the job world.
For that professional skill Internships are the best options, the more you learn, the more you earn. To get the real-time working knowledge you can do externships, volunteer work for non-profit organizations also considerable. Know the best internship benefits here
While studying the designing course in college career board will advise you to do internships & show-case multiple channels for these opportunities. The others also do these internships once they have done their course. Find the best & latest graphic designing internships here.
During Internships, people might choose their career path in graphic design. These are the possible career opportunities for graphic designers
5. Start Career in Graphic Design
This is the final step to attain starting a career in graphic designing. This would be a bit creepy but with educational background, key skills development, hands-on experience in tools usage, etc. will help you.
Getting an entry level graphic design job is a bit difficult, most of the people fail to choose the right job. Even notice troubles in job searches as well. Follow the link to find the best high-paying entry level graphic design jobs.
Prepare an entry level resume by including all your skills. For reference follow the article which resume read by recruiters? By following this, craft a nice resume then send along with the cover letter.
The next step would be Interview. All companies follow multiple selection processes. Usually, big firms follow this kind of selection process to hire a potential candidate for their company.
To attend the interview self-confidence is very important know how to build self-confidence for a job interview. A few tips for face to face job interview would help you for your first job interview.
Be confident, successful career in graphic designing is waiting for you. Be the first to grab the job opportunity by get in touch with new job updates. Hope with these steps you learned how to become a graphic designer in his artistic world. Do you think this would be informative? Do share a word about GradSiren. One of the best entry level & internship job search portals in USA.
Was this article helpful?
The information on this site is provided as a courtesy. GradSiren is not a career or legal advisor and does not guarantee job interviews or offers.