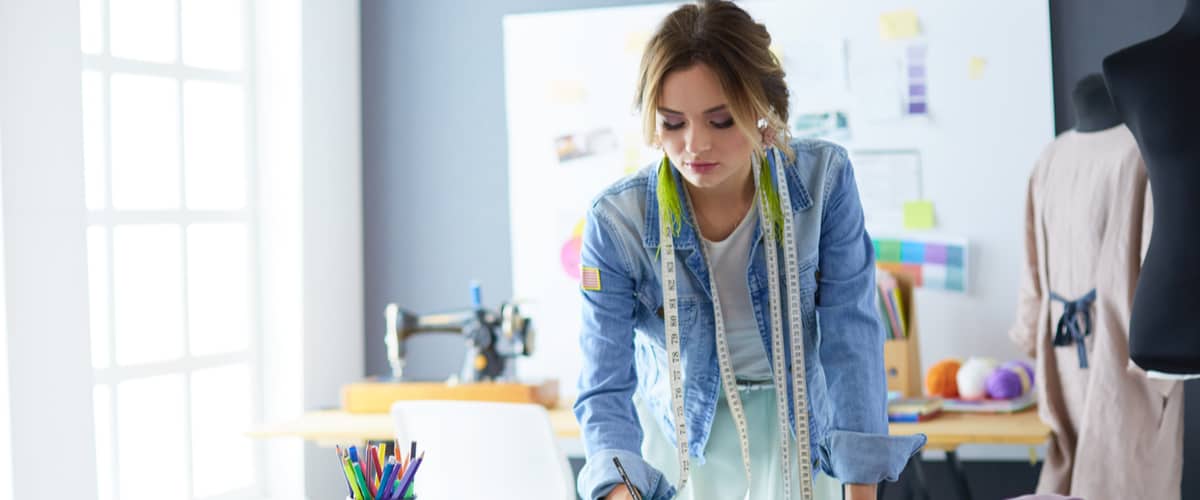 What things do I Know to become a fashion designer?
How to become a fashion designer is your question, then you can find multiple answers. Even most of the articles are a popular & good guide too. But if you're raising one question on how to become a fashion designer with a connection of studies to jobs skills you can find here. Which includes designing skills, platform set-up, fashion designing jobs, entry level job opportunities, etc. By reading this one article, you can get detailed knowledge about
What to study to become a fashion designer
Which type of skills do you develop for a successful career
How to set a customized platform in the Fashion Industry
Where do I find the best entry level fashion designer jobs?
Which tips do help you to set fruitful fashion designer career path
In this competitive world knowing these points are good enough to plan a fashion designing career. In this glamour county, fashion designer role such a tough job with good fame. But achieve this quickly with the deep empathies of above questions by continuing the read.
How to become a Fashion Designer
How to become a fashion designer? the first answer in all your minds! yes, we also go with your choice. Getting a degree in fashion designing. was it enough to make a career? These points will make you clear
Which course do I study to become a fashion designer?
Considering a career as a designer, right from childhood? Then this would be helpful if you develop your artistic skills. It's better if you choose your platform while studying. With a bright idea, you can earn a degree with that platform only. Alternatively, else if you want to become a fashion designer then choose a course related to that firm. Can look the bachelor's degree in fashion designing.
While doing this degree to become a successful fashion designer you need to develop other skills artistic skills like visual arts & ice your academic skills with top designing courses. The most exciting part is these are short-term as well as availed for this summer.
Which type of skills do you develop for a successful career?
For a successful career apart from fashion designing degree, you need to develop these inter-personal skills
Creativity– Creativity is the main trait, with your astonishing creativity, you can design the ground-breaking fashion apparels in this glam world.
Visualization– The second considerable thing is visualization, not only for fashion people anybody who's working in the design stream should have strong visualization skills.
Designer Eye– for a successful fashion designer career you have to see the world with the designer eye. Take a look in a world with deep understanding. See every firm in a design point of view to get new ideas.
Business Wisdom– it's not just important to create fashionable designs, but also crucial how-to business those apparels. Most of the designers fail in this strategy and was unable to open their own brand of fashion stores.
Communication Skills– This is the most important skill to develop the way how you communicate is important in this fame world. The best connections also bring you to more opportunities to become more famous.
These are the best skills to develop. Apart from this competitive spirit, keep an eye on up to date fashion trends, also brings a prosperous future.
How to set a customized platform in the Fashion Industry
Establishing a platform is very important to start a successful career. Not all people do all the designs. For example, you want to settle as a fashion designer. It's clear from your side but needs to consider to decide your niche
Apparel design
Fabric designing
Shoes designing
Leather products designing
Jewelry designing
Apart from the designer if you want to work in the fashion world, these are the possible platforms
Branding Manager
Photoshoot Stylist
Fashion Journalist
Fashion Merchandiser
Fashion Consultant
So, it's important to pick your desirable niche for a successful fashion platform
Where do I find the best entry level fashion designer jobs?
Running a successful fashion designer is not that much easy. The career opportunities for these designers are tough. Even if you have completed your fashion designing course in well-reputed college, it does not guarantee a job in big firms.
To get fashion designer job opportunities in early stages doing internships is the best choice. Without doing fashion internships, it's impossible to get a Job in this fashion world. Want to get fashion internships easily while studying read this article, this will help you a lot.
The most important point where do you find these jobs? If it's entry level fashion designer jobs or internships for summer, the best option is following this link. A lot of job sites offers fashion designer jobs, but GradSiren makes your job search approach differently. You can create a personalized job list by picking your dreamed companies.
Apart from GradSiren, you can also find multiple opportunities in Linked.in, Indeed, Naukri, Glassdoor, etc. Not all fashion industry people post jobs in job sites you can get job opportunities with personal contacts also. So, make sure that whenever you're in job hunting do share the details with your friends, family members, seniors, professors, etc.
Which tips do help you to set the fruitful fashion designer career path?
To set a fruitful career path as a fashion designer need to develop some qualities & taking practical advice from senior designers. You can learn all these during the internship. Here are some best tips & must to follow for a notable career.
#1 Get some real-work knowledge while studying don't stick to computer-aided designs. With those visuals, experts can't measure your standards
#2 Before choosing your niche or setting platform research which designing has demand. The fashion industry has regular updates, better to stay up to date.
#3 Find the trustworthy partner to share your designs. In this fashion industry trusting someone is not a good idea but find the best one to share your ideas
#4 Accept your mistakes & learn from those. Don't be upset if any failure comes to be confident, chin-up & continue your work for new designs.
#5 With your rock-hard designs create a brand. Right from industry experts to normal people, everyone should notice that you're above the rest. For this fame you need to act as ambassador also for your designs also bring people from your friends, colleagues, etc.
These are the tips! Try to follow & get a successful career as a fashion designer in this glam world.
It's all about how to become a fashion designer! Hope this article is the perfect as well as a complete guide for the one who is dreaming to grown up as a fashion designer. By reading how to become a fashion designer, are you thinking this would be useful? Share this with your pretty social icons.
Was this article helpful?
The information on this site is provided as a courtesy. GradSiren is not a career or legal advisor and does not guarantee job interviews or offers.