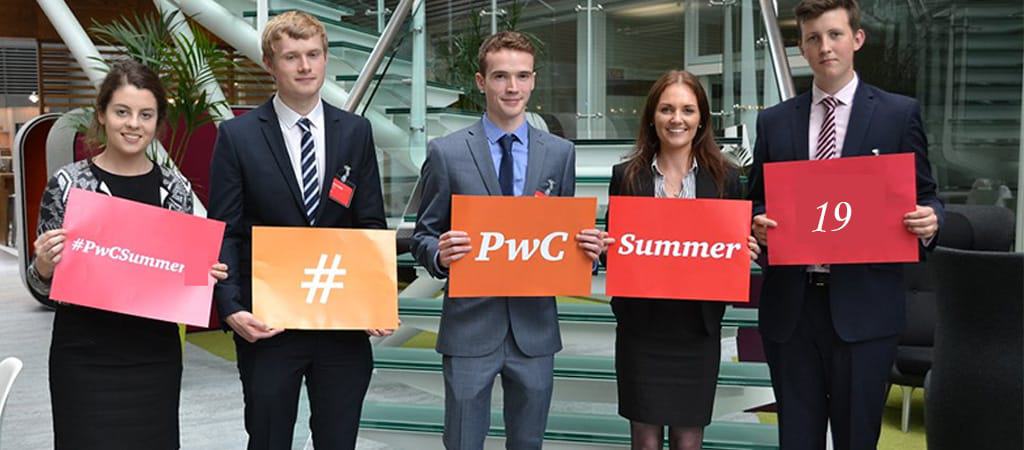 Selection Process with PwC-Summer Internships
Selection process with PwC Summer Internships is crucial because PWC is one of the largest professional services providing corporate company in the world.  The UK based company offers a varied range of  accounting services in 700+ cities, around the world. Quite often most of the student's dream is getting a  job with PWC. The largest firm also provides an opportunity for students to learn their work process through their Summer internship programms. Through this program they provide learning platform for students, they also do pay a good stipend during this period of internship. For this internship program they usually select 4000-5000 potential candidates from various universities through their self styled selection process. Are you also inclined to be one? Read this and know what is the PWC selection process for summer internships.
Getting a PwC summer internship opportunity is not as much as complex as it might seem . A focused approach , good academic score is needed as you may decide to pursue your position. Anyhow, the role doesn't require any previous experience but in interview they shoot out questions in a competitive manner for which you may be better equipped after this read.
For these internships PwC would be accepting applications from penultimate graduates of the universities . Usually a year or less than a year they release their internship program applications. For 2019 PwC summer internship program applications follow the link.
PwC selection process for summer internships
Once you have chosen the firm, they apply according to your interest. Usually, the PwC internship recruitment process would be involved four rounds, which is quite natural. The interview rounds involve
Online Application Registration
Online Test
First Interview we named it as Technical Interview
Personal Interview
These are four rounds to attain, get into details if you're enthusiastic to grab the position at PWC.
Online Application Registration
Filling the online registration form is the first & foremost point to consider in this PwC summer Internship program. The registration form contains three to four sections which are related to personal information, academic details like scores & achievements, personality traits, and future goals like what you want to be? career inspirations, etc.
There is no set of stock questions in this round. well, the PwC generally go with online Occupational Personality Questionnaire (OPQ) for this round. However, to achieve this round there is no specific way in terms of preparation. Only honesty will help you. try to prepare for this Occupational Personality Questionnaire by following the link.
The second session would be related to PwC processes. In this form fill-up, don't simply go with the PwC Boucher's or marketing research analysis. Try to give detailed explanations by adding examples to your answers.
Online Test
Once one application process has done you can get a mail in a couple of days for further process. In that mail you can get a link, through that you can get access for online written test. There is no scheduled time to attend this round but your active access status ends in five days of span. So, try to complete the test within five days.
In this round the test paper is comprised with four parts. Depending upon the area of your interest & the position you have applied the questions will come. The duration would be one hour.
In that question paper you should give answers for reasoning, logical, arithmetic, OPQ, situational judgement, etc.
The questions are not that much of tough, but you need to be more focused on time. Most of the students said that time is their constraint, so try to finish your exam in time by practicing this kind of questions.
First Interview
One you cleared this round, then you would be entered into the interview process. Mostly this would eb face to face or telephonic round. We called it first interview, generally this interview has taken by PwC senior employee, who're in the position of managerial or more that. This round is combined with competitive basis & technical part.
We divided the process into two categories.
4. Technical Round:  In this round they would ask questions based on your subject interests. The Skill expertise acquired .
5. Competitive Round: You can get questions on competitive basis, personal traits, work interests, etc. we can't call it as interview, the name casual conversation would be suitable for this round. They also ask question about PwC, their clients, work processing's, and more.
20 FAQs for you to prepare for those crucial  First Interview : 
These questions are previously asked by the senior managers, try to answer these to get confidence.
We named it HR round, there your answers were noted and observed your behavior too. You can consider it as a crucial phase, where you should answer for various questions. But nothing related to technical, where they ask questions on how you suitable for this job. This is the last & doesn't take much time for this, later they ask people to fill a form where you can choose your preferred location.
What do you think this role involves?
Describe a time when you had to improve a piece of work after criticism?
What have you read about PwC in the news?
Can you describe a time when you have worked in a team to deliver a piece of work? – What was your role in the team? What did you do exactly?
Describe a time when you've successfully managed a project. For Example : coursework or organizing an event. What challenges did you overcome? Who supported you? What was the outcome?
Can you tell me about a piece of recent financial news you've read? Why did you find it interesting?
Give an example of a time you failed to accomplish something.
Give an example of a time you built a relationship.
Why Choose audit as career?
Give an example of a time you worked with someone with a different style. How did this differ from your own?
Give an example of a time ,when something unethical observed was being corrected  by you
Give an example of a time when you weren't given enough guidance still could face it well .
Why Seek a career in PwC?
Give an example of a time when you overcame conflict.
What do you know about the ACA exams?
Give an example of a time when you worked with people outside your usual network.
What's the most difficult thing about working with you?
Was this article helpful?
The information on this site is provided as a courtesy. GradSiren is not a career or legal advisor and does not guarantee job interviews or offers.