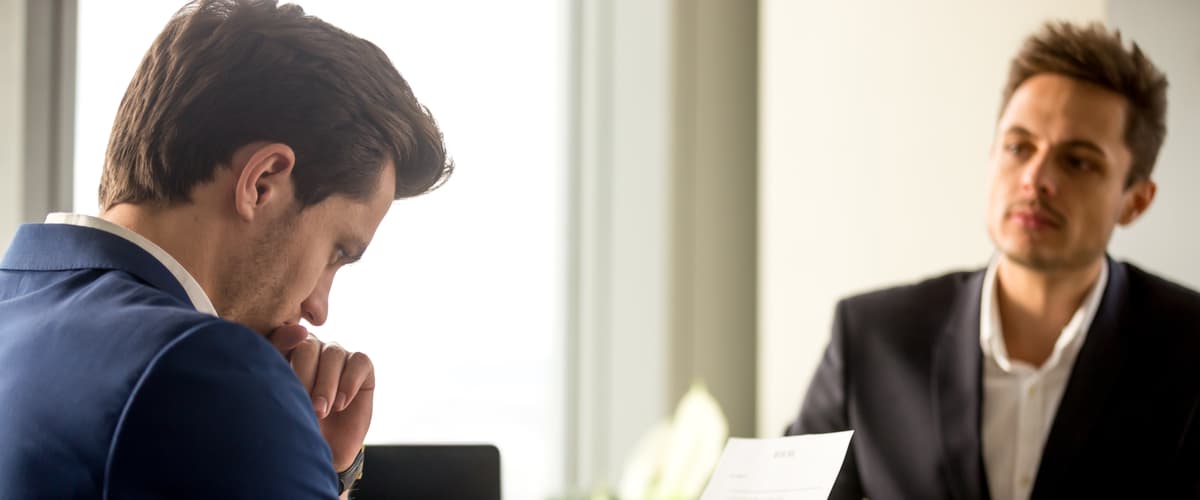 Which Resume Gets Read by Recruiters? 7 Resume Tips for you
After graduation, the world of work welcomes entry-level job seekers with open arms. And whether you're thrilled or filled with dread, your job search begins.
You peruse the job boards and portals, and there it is. Your dream job. Without a second thought, you send your cover letter and resume and cross your fingers. It's a perfect job for you! And you just know you'll get it.
A few days later, you crumble when the pre-written rejection note flashes in your inbox.
Did you know recruiters take less than 10 seconds to read resumes and reject them? It's true, and experts say 6 seconds is average.
GradSiren has done the research and learned which resumes recruiters and hiring managers actually read so you'll get that interview. Here's how to make your resume stand out.
Use job description keywords in your resume.
Recruiters and hiring managers use an applicant tracking system (ATS) to find the best candidates for the jobs they've listed. An ATS is a software application that works like a search engine, whether it's used on job boards or behind a company's career site. And just like any search engine, it operates by keywords.
How do you choose the best keywords?
Start by reviewing job descriptions and job titles in your field, and make a list of industry terms, buzzwords, and skills that occur frequently. From that list, choose terms that accurately describe your own goals, skills, and experience, and sprinkle them throughout your resume.
It's a good idea to use each keyword at least two times, but don't overdo it. Otherwise, you might get flagged for keyword overload.
Pay close attention to your contact information.
One missing or wrong letter in your email address means recruiters can't contact you. They have an extensive list of job applicants and potential candidates, and if email is their contact method of choice, they're not going to call.
The same is true for phone numbers. One wrong number and, if calling or texting is the way a recruiter gets in touch, you're out of luck.
Provide all means of contact including your email address, phone number, your own website (if you have one), and social media URLs including your LinkedIn profile. Hyperlink them if possible, and be concise. And no matter what contact methods you include, be sure they're 100% correct.
List your most important skills at the top of your resume.
You've heard of an elevator speech, right? It's a 30-second rehearsed "speech" about what you do, how you do it, and what your availability is, if that applies.
That's what a skill summary is. It's a quick overview of your work and your skills, and it should be near the top of your resume to catch a recruiter's attention quickly. Use bullet points for organization, and repeat a few in your experience section.
If there's one part of your resume to spend the most time, your skill summary is the place.
Be specific and avoid vague terms.
Everyone is a hard worker, is driven or ambitious, and has excellent communication skills. You need to differentiate yourself, but how many ways can you say, "excellent communication skills?"
The trick is to prove your claims. But how?
Try replacing ambitious and hard worker, for example, with "enthusiastic about achieving results" and show it. And if you're a recent grad, highlight a college work experience while juggling classes and sports activities.
You can also show off that high GPA or honors, and be sure to use numbers: "increased website registration by 75%" or "initiated project that reduced waste by 30%, resulting in 15% cost reduction."
Be precise and concise.
Providing as much information as possible with just a few words can be challenging. The trick is to prune unnecessary words until you can't remove more without losing essential information.
It's often the little words that need cutting. Two- and three-letter words are usually prepositions like to, for, of, and in, but many others clog the message pipes. Check out this job objective:
"Looking to obtain a position as a software trainer for a large company so I can use my years of experience and the skills I have developed in communication to do an excellent job with leading and managing a training team."
Here's the problem: all the little words. Not all are prepositions, but they need to go.
Reworded: "Experienced, enthusiastic software trainer seeks to leverage proven communication skills in management position."
Much better, right? Now do the same thing with your resume.
Organize with clear, consistent formatting.
Regardless of the job you're looking for, your resume must be well organized and consistent. And for job boards and online applications, that means it must follow established formats.
Be sure you label your sections clearly: Objective, Skill Summary, Work Experience, and Education. "Job objective" is falling out of favor lately, but new grads should use one. And you might also have sections for achievements, related activities, or relevant coursework.
Revise, edit, polish, and proofread your resume.
You might be the best candidate for a job, but if your resume is wordy, difficult to read, and loaded with misspellings and typos, it won't attract attention and get you the interview you deserve.
Time spent editing and proofreading ensures your resume grabs a recruiter's attention. You know the saying, "Rome wasn't built in a day?" Well, neither is a resume.
Start with a rough draft, then make the necessary changes for improvement. Check out this article and this one right here on GradSiren.
When you're 100% sure your resume is in great shape, take a break. Set it aside for a few days or at least a few hours, and re-read it with fresh eyes. You might be surprised.
Use spell check and grammar check, but don't count on them. Read it line by line, and check for errors including extra spaces between words or phrases. Check heading and dates alignment. And double-check company names: Campbell Soup, for example, isn't Cambell or Campbell's Soup. It's officially called Campbell Soup Company.
Remember, a perfectly written resume doesn't guarantee an interview or a job, but a poorly written resume will close the career opportunity doors.
In the U.S., GradSiren is one of the best job portals for entry-level jobs and internships. Every day, Fortune 500 companies visit GradSiren to recruit recent graduates. Take advantage of our quick and easy registration so employers can notify you.
Was this article helpful?
The information on this site is provided as a courtesy. GradSiren is not a career or legal advisor and does not guarantee job interviews or offers.