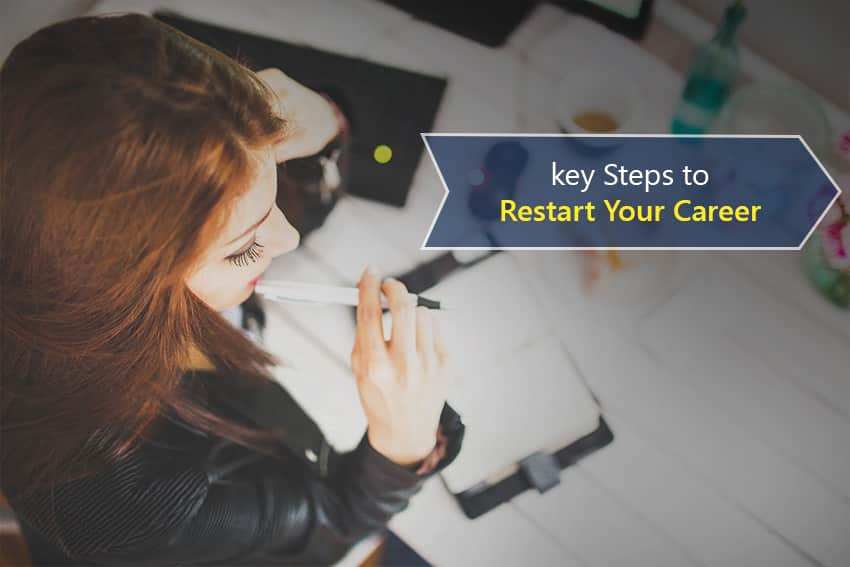 Key Things to Restart your Career After a Long Career Break
Are you thinking to restart a career after a long career break? Whether it is maternity leave/ traveling the world/failed to develop an own business/further studies. The prospects of restarting a career are different, but it is necessary to start. Most probably you can't assure that your former profession is calling you. So, you should plan perfectly with the help of this article to jumpstart your career.
Key Steps to Restart a Career After a Long Career Break
The one who wants to restart a career after a long career break to do things is here. With the below mentioned key things, you can plan a successful career without having much stress. Please have a look at what are they & how it is useful in your career restart
Preparation of Resume & Cover Letter
For any job search Resume & cover letter plays a key role. Before going to customize a resume note that recruiters have 30 sec of time to review your resume.
For this, you need to craft a picture-perfect resume to grab the recruiter's attention. Know more about points/columns in a resume observed by recruiters by reading which resume gets read by recruiters.
By following this, you can prepare a most effective resume. Also, write a cover letter based on the job requirement. Hope this article will help you to write a cover letter.
Use Professional Network
Whenever you are thinking to restart your career get in touch with the professional network. Some people have a requirement nor some other give reference.
With these references, you can get a job quickly. In your professional network, some might work as recruiters or HR in big firms. Don't miss any of them contact each & every person.
Share your resume with them & ask for suggestions in resume making as well as interview preparation. They more present trends on the job market.
List out the Opportunities
In career Restarting the question, you have raised in yourself Where to start? What to start? Do I continue with my former job?
Once you have a clear picture in job search, then find the job opportunities based on your requirements. One can see all the job opportunities here.
While coming to the next question what kind of job are you looking Is it full time? Part-time? Flexible timings? Alternatively, freelancer? Make a clear note then start your search.
Active on Networking Sites
Be active on professional networking sites like Linked.in. The way recruiters thinking is varying from day to day.
Recruiters were directly connecting the job seekers then interacting & discussing the job roles in their company. With these networking sites employers sharing the job information as well as knowing the job seekers interests have occurred mutually.
Learn more about the networking sites & update your profile in that. This will increase your profile visibility & bring more chances from recruiters and hiring managers.
Post resumes on Job Boards
Nowadays applying for similar Jobs in different companies with one resume is a common thing.  Prepare a particular best-selling skillset resume then post on Job boards.
With this resume upload, you can get more career opportunities than the traditional method (Individual finding & applying).
By simple resume posting, recruiters can find your resume then contact directly without applying for a job. This will be more advantageous in restarting a career after a long career break.
Interview Preparation
Restart a career with experience level or entry level. The interview process should be there; everyone can follow the particular selection process to get the job.
Once you list out the jobs that you have applied previously then prepare for the interviews. For this research about the company & their kind of selection process.
This might take a long time but must face step, even if you have the best reference you should meet the interview round for a job. For better understanding read the Amazon selection process, then you got a clear view.
Negotiations
This is the final step in your fresh restart. Finally, you have completed all your interview processes & crack the selection process of your dreamed company.
Negotiations are the crucial point in everyone's job time. Sometimes you say Yes sometimes No. However, the negotiation is dissimilar for every individual those skills which will affect your new career.
So, evaluate the job skills, prospects, company profile then accept the job offer. Improve your negotiation skills to get the best placements in your new career.
Are you a mother, want to start a career without any disturbances? Have a read on Best jobs for new moms article. These are the key things to restart a career after a long break. Hope this article helps you to restart your career. If we missed anything in this article? Do let us know in the below-mentioned comment box.
Was this article helpful?
The information on this site is provided as a courtesy. GradSiren is not a career or legal advisor and does not guarantee job interviews or offers.