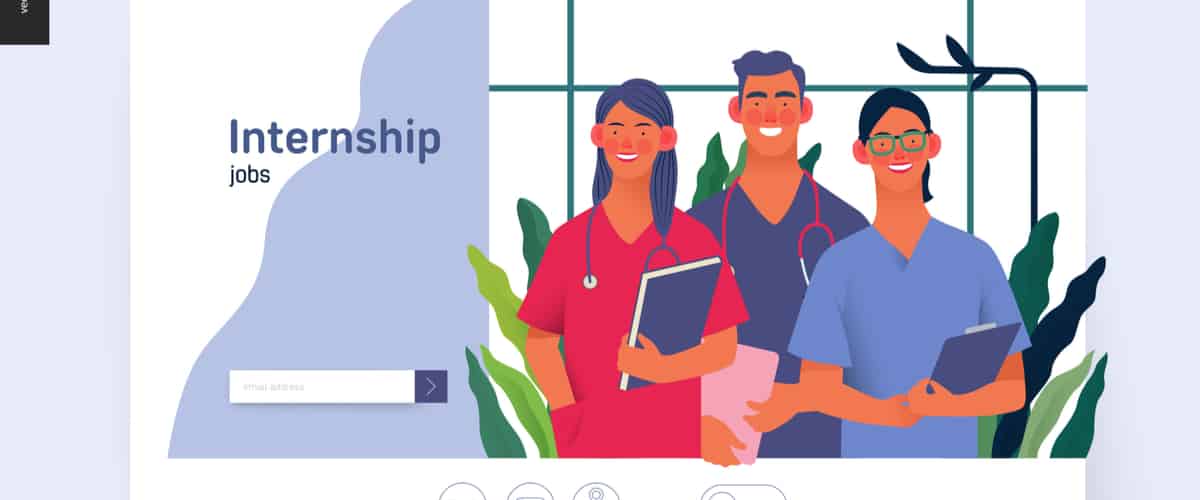 It's all about Medical Internships
Medical Internships are opportunities for medicos to be in the workplace environment. Most of the medical internships are in university or college hospitals, research labs, surgeries, & more. The one who wants to work as a volunteer can work for charitable organizations. Based on medico's specialization different types of medical internships are avail. Medical Internships are highly useful for medical interns, why because they give the opportunity to work with professionals. These will help you to establish your career for the future.
Of course, most of the medical internships are unpaid referred to as externships. With these externships, medical interns get real-time experience which is invaluable for their career startup.
Who're Medical Interns & How to apply for Medical Internships?
Medical interns are the recent medical college graduates who completed his licensing exam. Mostly medical internships are undertaken by the first-year postgraduate as well as final year graduate students. Most of the cases medical internships are referred to as the first-year resident, with this student can gain skill under the supervision. Usually, Medical interns can do all types of functions like a licensed doctor, but with supervised.
Medico's can guide by their university or college board for medical internships. Based on your skill & interest staff will direct you to the appropriate roles. With that, you can maximize your benefits for a successful career. If you want to search broadly for industrial, medical internships? Then follow this link. You can find a vast number of medical internships in one place. Choose the best one based on your preference.
Different types of Medical Internships for Medicos
Medicos are health professionals who diagnose & treat various medical conditions like illness, injuries, etc. For this, they need huge training to treat people; this is why medico's going for internship programs. There are different types of medical internships are available for medicos to improvise their skill. Before going to choose a career, it's better to know more about the field. Here are some best possible medical Internships for you.
Clinical research internships are the internships those who have an interest in a research firm. In this type of medical Internship, one can research the diseases & explore drugs to cure those.
Mostly laboratories, university labs, research labs, and more will bring out the opportunities for these interns. You can work closely with professors or industry experts to diagnose & study about various diseases.
The clinical research internship is an excellent opportunity for those who want to start their career in a search firm. Your professional network will bring out more opportunities in this research field.
Most of the professors have their research labs, with your professional network you can get a chance to work with them.
Hospital Internships
Hospital internships are the most common internships for all medical students. Based on your specialization you apply for internships in hospitals. There are different types of Internships in this firm.
Specialty Internships
Medical Students who choose a specialized internship based on their medical specialization are eligible for specialty internships. For suppose let's take examples like a gynecologist, cardiologist, opticians, dentistry, etc.
The one who chooses these specialty firm can spend more than one year as a medical intern. They work under a licensed physician during this period.
In USA number of organizations provide these kinds of specialization internships with specific years of the internship period. For example, AMA, AAFP, ACGME, ABFM provides multiple internship programs.
Interns must complete these internships before becoming eligible for board certification. The Internship programs should be like five years for otolaryngology, six years for neurological surgery & more.
Osteopathic Internships also a kind of specialized internships. But, involved with general physician internship. In Osteopathic internship program, the medical intern covers various areas like anesthesia, emergency medicine, family practice, pediatrics, & radiology.
The Pediatric Osteopathic Internship program includes three years. The osteopathic graduate must qualify in COMLEX (Comprehensive Osteopathic Medical Licensing Examination) then only he/she is eligible for Osteopathic Internship.
The one who wants to become a general practitioner will go for this internship program. To apply for this internship programs a medico should pass the USMLE (U.S. Medical Licensing Examination)
After the completion of the exam, this internship program is followed for a one-year period. Before going to move on for practice they should complete this Internship.
The general practitioner should cover various medical firms during this transitional Internships. The areas should be like emergency medicine, intensive care, even cardiology as well.
These are the medical internships that are available in medical students. For other types of medical internships, you can work in nursing homes, doctors' surgeries and hospitals. For volunteering internships, you can work with NGO's, public sectors, etc.
When & Where do I apply for Medical Internships?
If you're doing graduation or postgraduation, then you're eligible to do this Medical Internships. You can consult your university or college board career center for these internship opportunities. Alternatively, else you can find all the latest medical Internships available that would suit you by following this link.
Read how to be a pro during internship to maximize your entry-level opportunities. Don't want to slip-up any medical Internship then subscribe GradSiren. Get all the updates for free with lifetime validity. GradSiren is one of the top job board for entry-level jobs & internship opportunities. You can also search here for similar entry-level jobs.
Was this article helpful?
The information on this site is provided as a courtesy. GradSiren is not a career or legal advisor and does not guarantee job interviews or offers.