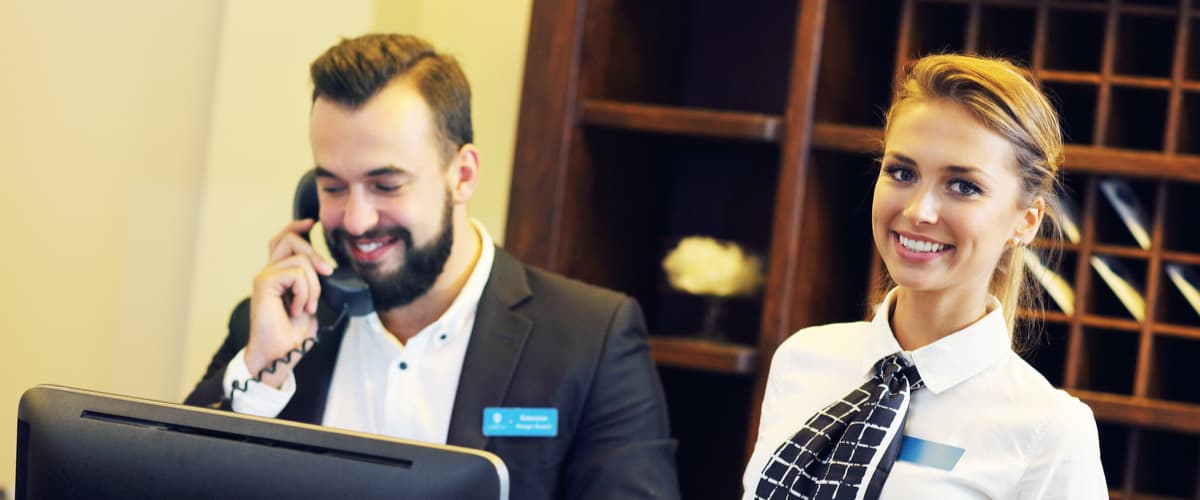 5 Reasons to Choose Hospitality Management as a Career
Entry Level Jobs
Hospitality management is a career path that can take you down many roads. Also called lodging management, managers ensure the comfort of guests at motels, hotels, and world-class luxury resorts. Any establishment intended to lodge overnight visitors needs a manager to make sure operations run smoothly. And almost every town or city in the United States has job opportunities.
If you're graduating with a four-year degree in hotel or hospitality management, you're ready to start your career. A two-year associate degree and a certificate in hospitality is also a great beginning. Do you have a high school diploma and a few years of experience? In the hospitality industry, experience, and on-the-job training counts, and you can work your way up to a career in management.
Hospitality Management Career Prospective
The hospitality and tourism industries offer jobs at all levels. Small hotels, inns, or bed-and-breakfast-type lodging may need only one manager and a few employees. But large resort hotels need hundreds of workers. Jobs include pool attendants, housekeepers, waiters, cooks, front desk clerks, concierges, and more. One executive manager may oversee the entire hotel, but each department also needs a manager. Add assistant managers to the mix, and you can see the opportunities.
Hospitality management is a growing industry, and the pay is generally good, especially for a senior-level position. Entry-level jobs start at around $28,930 annually, and the highest annual salary may reach $98,370 or more. But there are other reasons to consider hospitality management.
In addition to annual wages and career opportunities, you'll find many exciting reasons to pursue a career in hospitality management.
Travelling Opportunities
If you enjoy traveling or want to start, this is the career for you. The hospitality industry is global, and with a hotel management degree, you can work anywhere in the world. Or you might have your home base in the US and travel only occasionally, whether nationally or internationally.
It all depends on the company you decide to work with. Any of the large chain hotels or franchises have a wide variety of hospitality jobs. The level you work at can also determine whether you'll have a chance for travel.
Work with Interesting People
If you enjoy working with people, the hotel industry is one of the best businesses to be in. Of course, it all depends on the size of the hotel, motel, or company you work for. But at a large hotel in a medium-sized city, you'll work with hundreds of people every day.
Let's say you're a front desk manager. You'll work in an office at times, but at other times you might work with the front desk staff. You'll greet special guests and signal a porter to take their luggage as you guide them to check-in. You'll introduce them to the concierge or other helpful employees. Or you can lead them to the restaurant or personally escort them to their room.
Hotel management is all about pleasing guests and making sure their stay is a pleasant one. Interpersonal skills are a must. But if you're a naturally outgoing type of person, it can mean a job that's a lot of fun in the long term.
A Different Day, Every Day
If you're not the type to sit at a desk and do the same thing repeatedly, hospitality management is perfect. You'll have flexible scheduling, and no two days will be the same.
Of course, you have the same goals every day: making sure guests are happy and the hotel or your department is running smoothly. But because lodging management is all about customer service, the challenges are as different as the people your company serves.
The problems and challenges will be different each day. Opportunities to do a task better or more efficiently will always exist. Problem-solving for fussy guests will challenge you to think creatively and use the best communication skills you have—or learn new ones.
Plus, employees always have different training needs, ways of learning things, or their own unique challenges. And it will be up to you, as a manager, to bring out the best in them.
Rewarding Work and Job Satisfaction
Nothing is more satisfying than receiving a personal thank-you letter from a guest. A positive review online can also make your job feel worthwhile. Hospitality management can be challenging. But the rewards are great.
Your job can be in various departments depending on your preferences. Or you could manage an entire hotel. In a large hotel, you might enjoy the challenge of maintaining full occupancy year-round. You'll use creative problem-solving skills on your own or with a team of department managers. And when you find ways to fill those empty rooms or resolve issues that caused the problem, work can be satisfying indeed.
Hard Work That's Fun
Any position in hospitality means demanding work. And if you're a manager in a busy hotel, you'll be on your feet quite a bit.
But if you have an upbeat, positive type of personality, hospitality management can be fun. When you work with people as varied as hotel employees, every day can have a bit of humor to it. You'll take your work seriously, of course, and you'll make that clear to employees. But ensuring a pleasant stay for guests means all employees need to be happy with their work. If they're not, it will show in the way they treat guests. And they take their cue from management.
As a hospitality manager, you get to bring the fun to work. That can mean celebrating yearly employee anniversaries or holding staff parties or socials after meetings. It might mean footing the bill for a comedian to make employees laugh during busy holidays. You could even hold contests for employees and offer fun prizes. And sometimes fun is as simple as a warm smile for a tired traveler.
What about you? Why do you think hospitality management is a great career? Share in the comments below!
Find the latest entry-level job opportunities in hospitality management and other types of management right here at GradSiren. Browse thousands of job opportunities and apply!
Was this article helpful?
The information on this site is provided as a courtesy. GradSiren is not a career or legal advisor and does not guarantee job interviews or offers.