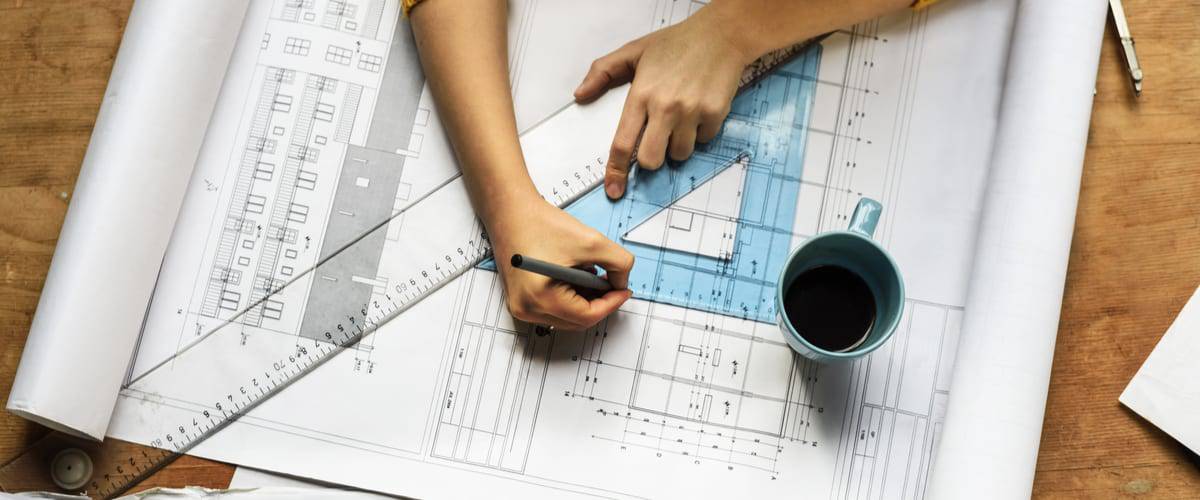 Careers for Architecture Majors
Did you know that some of the most fascinating, well-paid careers are in architecture? If you have a degree in architecture, you're pursuing a degree, or you just think it's a possibility, you'll find the best architecture job options right here.
Feeling overwhelmed with your architecture career ideas and plans? Put your fears to rest with this guide for career options whether you start your career as an intern or with an entry-level job. The choice is yours.
Let's jump to the article. You're going to learn:
What architecture is
The best possible architecture jobs
Salaries, career opportunities, and an outlook for architecture jobs
Where to search for the best architecture jobs
What is architecture?
Architecture involves designing a plan for the exterior or interior of a building, landscape, and even parks and neighborhoods. Most people think of detailed drawings when they think of an architect's work, and that's definitely part of architectural design. This field requires creative skills, precision, mathematic capabilities, and 3D perception as well as good communication skills. The world welcomes creative people interested in architecture with a wide range of career opportunities.
The below section provides reliable information about architecture job options.
What are the best possible architecture jobs?
Most architecture companies are small with a limited number of employees. But even though they're usually small, these companies conduct a wide range of commercial and residential work. Some architects specialize in a particular type of architecture, such as sustainable design. Others choose a career in consulting and provide independent expertise to many companies. Have a look at the career paths and opportunities open to graduates with architectural education.
Architects
Drafters
Landscape Architects
Interior and Spatial Designers
Urban Designers
These are the best architecture jobs for graduates who want to start their career with a bachelor's, graduate, or postdoctoral degree in architecture. You can also start your career with degrees like a BS or BA in architectural studies or environmental design. Regardless, you will need some specific courses to qualify as a professional, licensed architect. You'll also need to be familiar with construction projects and graphic design.
Job Role: The architect's job role is planning, designing, and constructing a building or other structures. In addition, they are specially trained in overseeing the project, and they're responsible for public as well as worker safety. Their job function, in general, is creating the designs for functional spaces then leading those concepts to completion.
Annual Wages: The entry-level architect salary typically starts around $37,052, and the senior architect may earn as much as $116,491.
Career Growth: The job outlook is good with 128,800 architect opportunities. Growth is projected for a 4.2% gain over the following 5 years.
Job Role: A drafter converts the architect's designs into drawings by using specially designed software. They're responsible for crafting drawings that clearly represent the architecture's designs and intentions. And with those drawings, teams of engineers, construction workers, and laborers among others bring the architecture's imagination to life.
Annual Wages: A drafting salary typically starts at $23,838. Top-level drafters may earn up to $60,732 or more.
Career Growth: The employment opportunities are good with expected 9% growth over the next few years. Currently, 99,600 drafter jobs are here.
Job Role: The landscape architect designs outdoor spaces, whether commercial, residential or publicly owned real estate. In many cases, a landscape architect or architecture firm is in charge of designing facilities intended for public use and the exteriors of schools, hotels, and tourist attractions. Their main focus is often in site planning and project management as well as implementation.
Annual Wages: An entry-level landscape architect's annual salary starts $34,242, and a senior-level landscape architect can earn up to $90,313.
Career Growth: The employment opportunities for landscape architects are expected to grow 7% for the following 10 years. Browse through 24,700 landscape architect jobs right here and apply with one click.
Job Role: An interior designer is responsible for creating attractive rooms by utilizing space in the most flattering, purposeful way. Clients from big firms to individual homeowners are guided in making the best choices that suit their preferred styles. Regardless of each room's size, each one is designed to be beautiful and unique in itself while, at the same time, complementing the rest of the building or home. Interior designers focus on architectural elements within each room and the entire structure and consider the exterior of the building as well.
Annual Wages: An entry-level interior designer's annual salary starts around $24,311, and a top-end designer earns up to $92,504 and even more, especially if they own their own company.
Career Growth: The employment opportunities for interior designers are expected to grow 6% over the following 10 years. Check out 66,500 interior designer jobs right here and apply with one click.
Job Role: An urban designer proposes usage of land and develops designs to best utilize the space. In cities, towns, and metropolitan areas, they're involved in urban planning and create plans for communities, residential growth, and special-use areas like parks and entertainment venues. Urban designers play important roles, especially in large cities.
Annual Wages: An entry-level urban designer might start off earning $37,839, and a more experienced, well-known urban designer earns up to $95,609 and more.
Career Growth: The employment opportunities for urban designers are projected to grow 13% for the following 10 years. Browse over 36,000 urban designer jobs and apply with one click.
Was this article helpful?
The information on this site is provided as a courtesy. GradSiren is not a career or legal advisor and does not guarantee job interviews or offers.