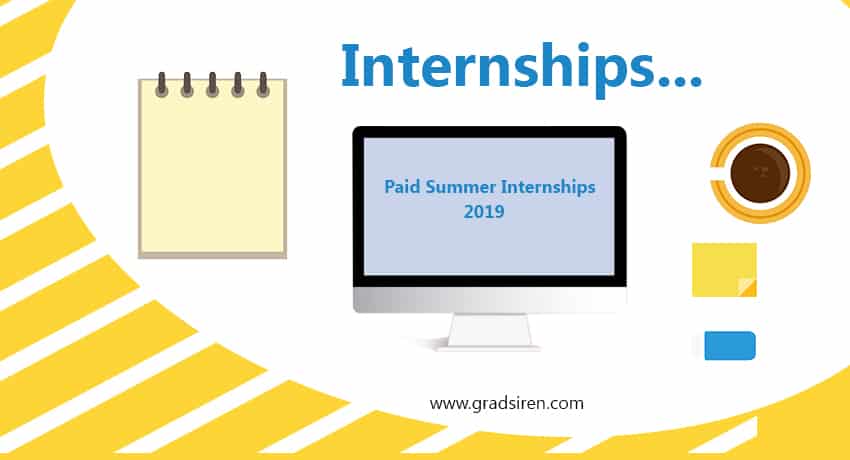 Summer's Best Paid Internships for College Students
Summer Internships are one of the best money-making opportunities for college students in USA. However, for many of the students, this opportunity remains a nightmare as in most of the cases students wouldn't get paid enough. But you guys are lucky! As today we are going to see USA's best summer paid internships for college students of the year 2019 and beyond. With Internship preparation, it would always be good to plan for the upcoming years and not just about this summer 2019 alone.
Are you seeking high-paying internship opportunities in USA? The priority could be Technology followed by finance, marketing, energy supplies, media & culinary arts. These business areas could also provide some decent internships in USA for international students. These could be some of the best fields for pursuing your international internship opportunity.
Summer's High-Paid Internships for College Students
Hope now we got some knowledge about areas offering paid internships for college students. Let us also observe some of the top companies that could provide them better. In addition to high-pay, these organizations also offer cool benefits like snacks, restrooms, etc. making your summer internship a fun-filled experience.
Top Six Companies for Paid Internships
In this list mostly financial, marketing & technology areas are covered. As we mentioned above other areas too offer good pay for their interns. Please follow the link appended here to find best paid-internships for college students in USA.
1. Facebook
Facebook –A US-based social networking company that allows users to create profiles. It also helps chat with your colleagues, friends, relatives, etc. One of the top fortune 100 companies with 40.7 billion revenue (2017). The company provides paid internships for college students in multiple areas. Do follow the link for internship opportunities. The Monthly wages would be anywhere around $ 7000 – $8,000.
2. Microsoft
Microsoft is one of the leading software companies in USA. This corporate firm mainly offers computer software for all countries. Microsoft is a product-based company that develops licenses, software products, PC's, laptops, & its related services. The firm is the second highest paid internship opportunity provider for college students in USA. Microsoft offers Internship opportunities on University & Skill basis. Please follow the link to explore. Also, do read this article how to apply & selection process of Microsoft.
3. Apple
Apple is USA based multinational company mainly offering consumer electronic products. iPhones, iPods, Apple watches, Apple computers (mac book), Apple TV are some of their key product. The company also offers Apple software applications & services. The tech freak company encourages young talents by providing paid internships. Please Follow the link for apple internships in USA
4. Google
The American based global firm Google LLC is a famous search technology service provider. Their services include search engine, cloud computing, advertising, software products, hardware products etc. This company provides huge internships for college students. Every year they offer summer internship programs for students globally. Browse Google's summer internships here. Read this article if you are looking for an internship at Google.
5. Amazon
Amazon the largest e-commerce company in the world, based in USA. The Company provides e-commerce services. The customer can purchase various products. Their products include tools, electronic goods, apparels, footwear, mobiles, etc. They also offer paid internships for college students. Browse here for more Amazon Internship details. Get more detailed information about the Amazon selection process by reading this article.
6. ExxonMobil
ExxonMobil is an oil & natural gas company, headquartered in Texas, USA. It is the world's largest oil & gas company. They offer multiple career opportunities especially paid internships for college students in summer seasons. Also get the latest information on paid Internships, apprenticeship, co-op opportunities right away by clicking this link.
These are some of the top six companies that are providing paid internships for college students in USA. The most important thing is that these fortune companies specially design summer internship programs. Want to know more details about Internships? Read more about the importance of Internships along with the significance of doing them. Search for more similar paid summer internships by following this link. Also get the latest internship opportunity updates to your e-mail by subscribing to our job updates.
Was this article helpful?
The information on this site is provided as a courtesy. GradSiren is not a career or legal advisor and does not guarantee job interviews or offers.