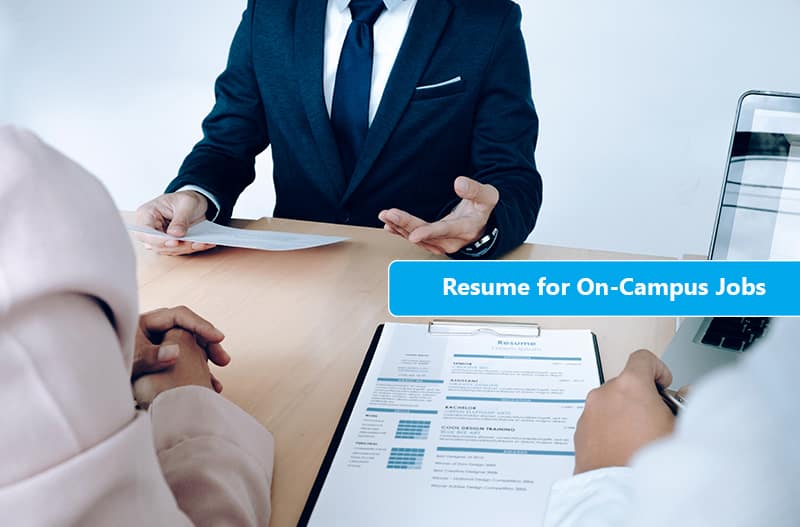 Resume Format for On-Campus Placements
Cool Season turns hot with student jobs! yes, your guess is right on-campus jobs! means time to enter into the job market. On-campus Jobs are the journey of your job adventure. Most probably a student's first weapon would be a professional resume. So, you're thinking about how to write a student resume? here is your answer. On-campus placements include both internships or entry level jobs. The resume is different for these two jobs. But the common point is both are students & it's on-campus jobs. Everyone can follow this on-campus Job resume format to prepare their student resume.
The one who doesn't have any knowledge on resume preparation this would be helpful. Resume preparation is a bit difficult but you can prepare a professional resume by following these guidelines. If you already had professional work experience (internships) then read which resume gets read by recruiters? Which will be helpful for the best crafting.
Best on-campus Job resume tips for US students
Which format do I use for student resume?
For on-campus Job resume, the format should be simple, neat with comprehensible. Don't design your resume in a clumsy format with images. Consider functional format if it is useful or else go with combination format.
How to arrange my information in the selected resume format?
First make one a clear note what you have put on in a resume. Follow the order (the basic resume contains)
Resume Title
Name
Contact details
Career Objective
Academic details
Accomplishments
Key Skills (technical skills & soft skills)
Professional experience (mention if any)
Academic Projects
References (not mandatory)
Is resume Title mandatory for a student resume?
Resume title defines you, also acts as an indicator for recruiters. With the clear resume title hiring managers, even AI picks resume from the pool.
While coming to the on-campus jobs the title defines the candidate. Even helpful for recruiters what exactly they are seeking.
What should I mention in contact details?
Mention all the available information to contact like contact number, email id, social media profiles, professional profile (linked.in). If you have any website or any other medium to show your expertise then link them here.
As a student how to write an effective career objective?
Career Objective is the underlining point in a resume. Recruiters spend time by reading this, so as a student write a career objective with short-term goals. This defines your working nature & learning interest.
Which format do I follow to write key skills & technical skills?
Usually, students write skills in one by one like
But when coming to the professional resume format this won't come with effective. So follow this format to include skills
Good knowledge in MS office
Familiarity with Java
Knowledge of C++
Do a one-page resume is better? Or two pages?
For on-campus job resume, a one-page resume is better. If you have any professional experience like internships, externships, or having experience in professional work then two pages are suggestable. Read Is better to have a one- or two-page resume? For a detailed information.
What should I write if I don't have any reference?
Reference column is not mandatory. For on-campus jobs, it won't work out usually. If you don't have any reference in that company don't worry about it. And don't mention irrelevant references which won't affects your resume.
Is proofreading compulsory after a resume preparation?
Yes, proof-reading is mandatory. Before going to take a printout of your resume read twice or thrice. If possible, show it to your professors, seniors, elders, siblings, or any working professionals. By doing this you can't slip-up any information.
This is the best to follow on-campus job resume format. Hope these tips are useful to prepare a student resume. Looking for a detailed information about resume preparation? Click here. Do you think this resume information is useful for students? share the article through the social icons. We slip-up anything mentions with the below mentioned comment box we will include that also.
Was this article helpful?
The information on this site is provided as a courtesy. GradSiren is not a career or legal advisor and does not guarantee job interviews or offers.