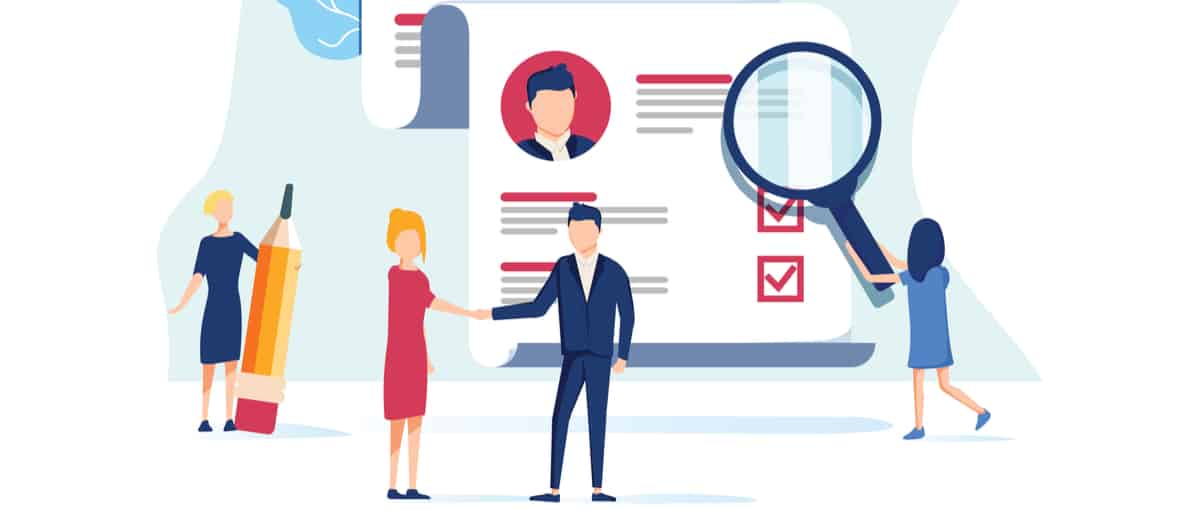 Is an Infographic Resume Right for You?
If you're in the creative or technical industries, you might want to consider an unusual format for your resume: an infographic.You'll still want to use a standard resume for most purposes, but to show off your creative and tech flare, place an infographic resume on your website, on social media, and some job boards. You can also offer it to a recruiter or hiring manager during your interview (perhaps while discussing technical skills) or as it wraps up. It can leave a lasting impression!
A visual representation of your skills, talents, and experience could be just what you need stand out. In any area of business that values creativity, your resume can be more intriguing if presented visually.
You can even integrate audio or video in an infographic or feature an infographic on a video. But keep it short. Sixty to ninety seconds—a minute to a minute and a half—is all you need. Video resumes have been around for years, but embedding a video or an audio clip in an infographic is particularly innovative. Just be sure your industry is open to it.
A note of caution: Don't try this if you're not an experienced graphic designer or infographic creator. Don't do it if you're unsure of your target audience and who, exactly, you want to impress. And if you decide to hire someone to create a graphic representation of your abilities, don't do it unless you're experienced enough to evaluate the final product. Finally, be prepared to spend some money if you're hiring someone. You get what you pay for, as the saying goes, and you'll need expert design to make an infographic resume work for you.
What is an Infographic Resume?
An infographic resume is a visual resume that includes diagrams, bar charts, graphs, and imagery with brief text descriptions or explanations. It reads in the direction that arrows or paths indicate, and they're usually tall and narrow. Readers have to scroll down a bit to follow information to the bottom.
This type of resume should be user-friendly and communicate clearly. Plus, the graphics should be eye catching, use a complimentary color scheme, and have plenty of space between them. The goal of an infographic is to convey a job seeker's skills in an attractive, easy-to-read package.
The process of online resume selection
Technology jobs like niche programming, software development, project management, mobile technology, and other big data sciences are in demand, and recruiters search the job boards daily. Finding the right talent is always a challenge, and experts say that the average time spent scanning a resume to find the required skills is not more than six seconds.
That's right. Six seconds. You might imagine recruiters or hiring managers reading each resume from top to bottom and spending a few minutes on each one. But if you have hundreds of resumes to sort through in a day, you'll look for specific skills or experience as quickly as possible. And if they don't stand out, the recruiter moves on to the next one.
So, when a recruiter takes a quick look at your resume, you only have that brief window of time to make a good impression. And your resume must communicate your entire skill set and abilities in as few words as possible. With that in mind, you also want your information to pop out and grab attention. The good news is that a carefully designed infographic resume can do just that.
Advantages of an infographic resume:
A resume with an unusual yet professional design stands out from the crowd. It pops out and looks special on job boards or on your LinkedIn profile and other social media.
It conveys a quick, effective message and pulls together your skills and experience in one tidy presentation. It takes less time to scan for essential information, and busy recruiters will appreciate that.
It displays your creativity, which is great for a position in which creative thinking is desirable.
Infographic resumes aren't difficult to create if you have solid graphic design skills. Templates are available, but think twice before you risk using the same template as others in your field. Customize the template as much as possible.
They easily condense extensive information. And your most important assets can stand out from everything else.
An infographic resume can get you noticed among hundreds of other applicants or resumes on job boards and portals. But if you can't do it well, it could make a negative impression. So think carefully before deciding to use one during your job search.
When to use an infographic resume
If in doubt, stick with a traditional resume. Creative fields like marketing, advertising, PR, and communications are more open to creativity than others. And any technical industry that involves artistry like front-end web development or graphic design is an obvious place to use a graphic resume. But check to see how many others in these fields are using them. When competing with other creative professionals, your graphic resume really has to stand out.
Keep in mind that recruiters in conservative fields like finance, accounting, or law won't be impressed; they want to see standard cover letters and resumes. Plus, some online listings and job boards just won't accept anything except standard formatting.
While creating your resume, use a combination of a traditionally formatted resume and an infographic version for best results. And do some testing. Post your creative resume on your website or LinkedIn and other social media. See what kinds of responses you get. And don't hesitate to improve and revise based on feedback. If you're going to try something different, make sure it's awesome.
You can create an unforgettable resume by customizing an infographic resume template.
Read more on how to get your first job right here on GradSiren and register for free updates.
Have you had experience with infographic resumes? Share your thoughts in the comments below. We'd love to hear from you!
Was this article helpful?
The information on this site is provided as a courtesy. GradSiren is not a career or legal advisor and does not guarantee job interviews or offers.